B2B SEO is Complicated
Welcome to Angelfish, the specialised B2B SEO agency designed for Heads of Marketing, CMOs, and Marketing Managers navigating the complex currents of B2B business.
At Angelfish, we're experts at recognising the unique challenges faced by those at the helm of marketing operations. Marketing teams are constantly faced with the mission of staying aligned strategically, delivering measurable results and outperforming their competition. We're here to lighten your load, increase your visibility online, and turn your web traffic into a robust sales pipeline.
Our expert team specialises in aiding marketing leaders to unlock extraordinary results from SEO. We understand the intricacies of B2B markets, the specifics of industry jargon, and the crucial role of precision-targeted content in generating not just traffic, but the right kind of traffic.
Our process involves investing time in understanding your specific marketing objectives, service positioning, and target personas. This deep-dive approach ensures we align our efforts with your strategic direction, enabling us to craft SEO strategies that fit your needs and drive your business forward.
In the vast sea of digital marketing, Angelfish is your strategic, tailored SEO solution

.
Together, we'll chart a course for your online success.


Having worked with Angelfish for 4 months, we are already starting to see results in activity on our website and web enquiries from new clients.


WHY CHOOSE ANGELFISH MARKETING?
B2B Specialisation: We navigate the complex waters of B2B marketing by understanding the long sales cycles, niche markets, and intricate buying processes. We design proven strategies that attract visitors, and nurture them into valuable long-term clients.
Expertise: Our team comprises seasoned SEO experts, content creators, web developers, and digital marketing strategists. We stay ahead of the curve, constantly updating our techniques with the latest SEO trends and Google algorithm shifts.
Proven Process: We ensure better results through our tried-and-tested process. By exploring your unique objectives and target personas, we lay a strong foundation for all SEO efforts, translating our depth of understanding into measurable success.
Transparent Communication: At Angelfish, we maintain clear and consistent communication with our clients. By providing regular updates on our strategies and progress, we ensure you're never in the dark about our work.
Flexible Packages: We understand every business is unique, and we cater to a diverse range of business needs and budgets.
Whether you're at the helm of a growing start-up's marketing or managing a well-established corporation's marketing strategy, we guarantee to have solutions that perfectly fit your requirements.
CLIENT SUCCESS STORIES
TECHNOLOGY CLIENT
We started with our technology client back in October 2022 after completing an initial Search Plan. Our client had 510 search rankings at the time, and many were not relevant to the products or persona types they ideally needed to target to facilitate growth.
Fast forward to July 2023 and rankings have increased by over 51%.
That's not only 773 global rankings achieved but a significant increase in relevance for the client's target audience acquisition. UK rankings have seen a whopping 88% increase during the same period!
B2B MEDIA CLIENT
We started with our client in October 2022 by creating a Search Plan to help them increase their visibility. This was no mean feat; their niche was highly competitive.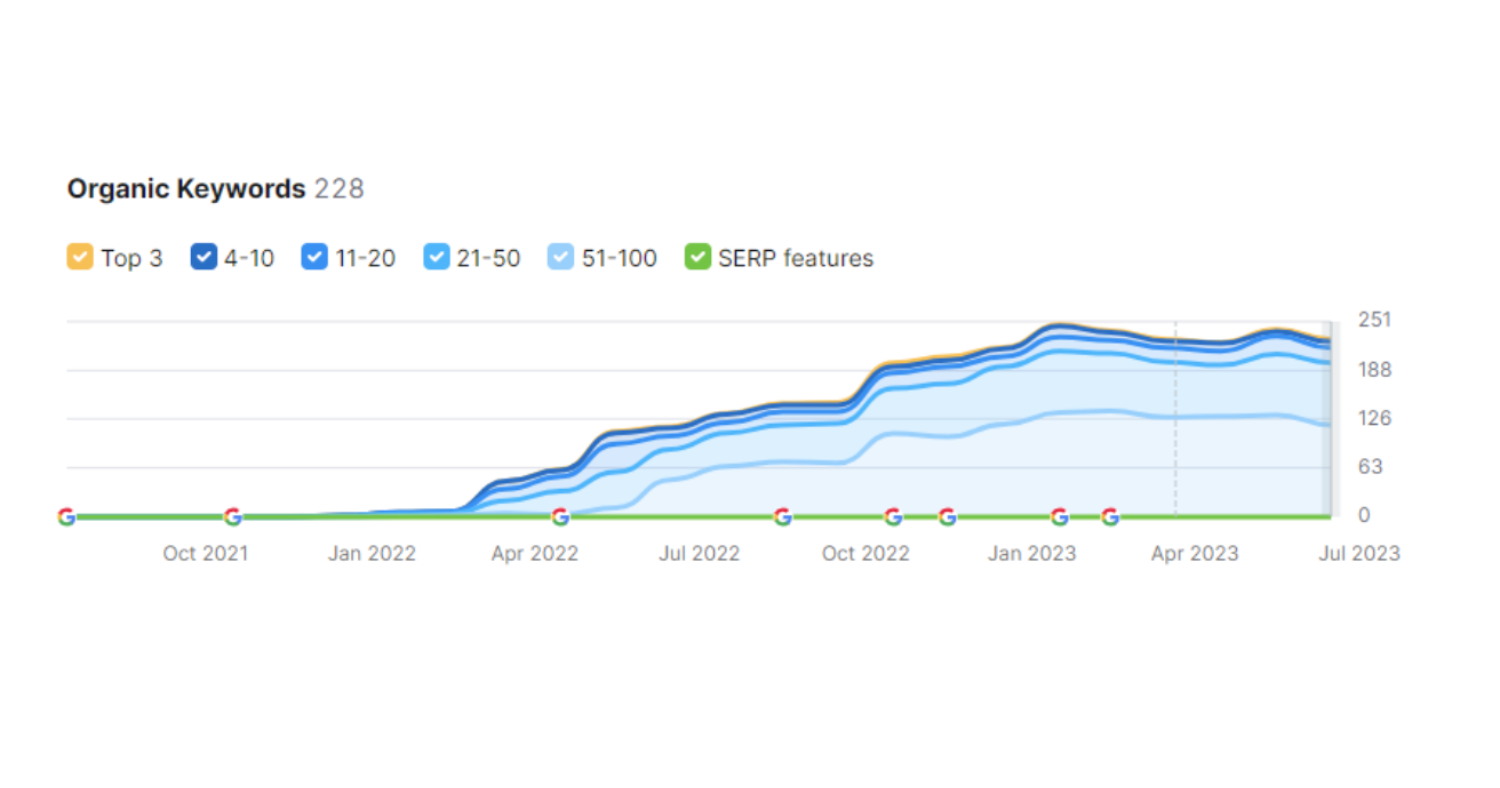 Our Search Plan enabled us to understand their products, their persona targets and key objectives for the business. From this we created a content strategy, topic cluster map, link building targets, and technical plan.
Just 8 months later, our client's rankings have seen a dramatic increase of 55% in search engine rankings. Due to our planning process, they have also seen an increase in rankings for terms that are most relevant for their agency business.
B2B CHARITY AGENCY
Our client, a B2B company focusing on the charity sector, came to us, they needed support with their SEO to increase visibility and start to rank amongst their key competitors in the space.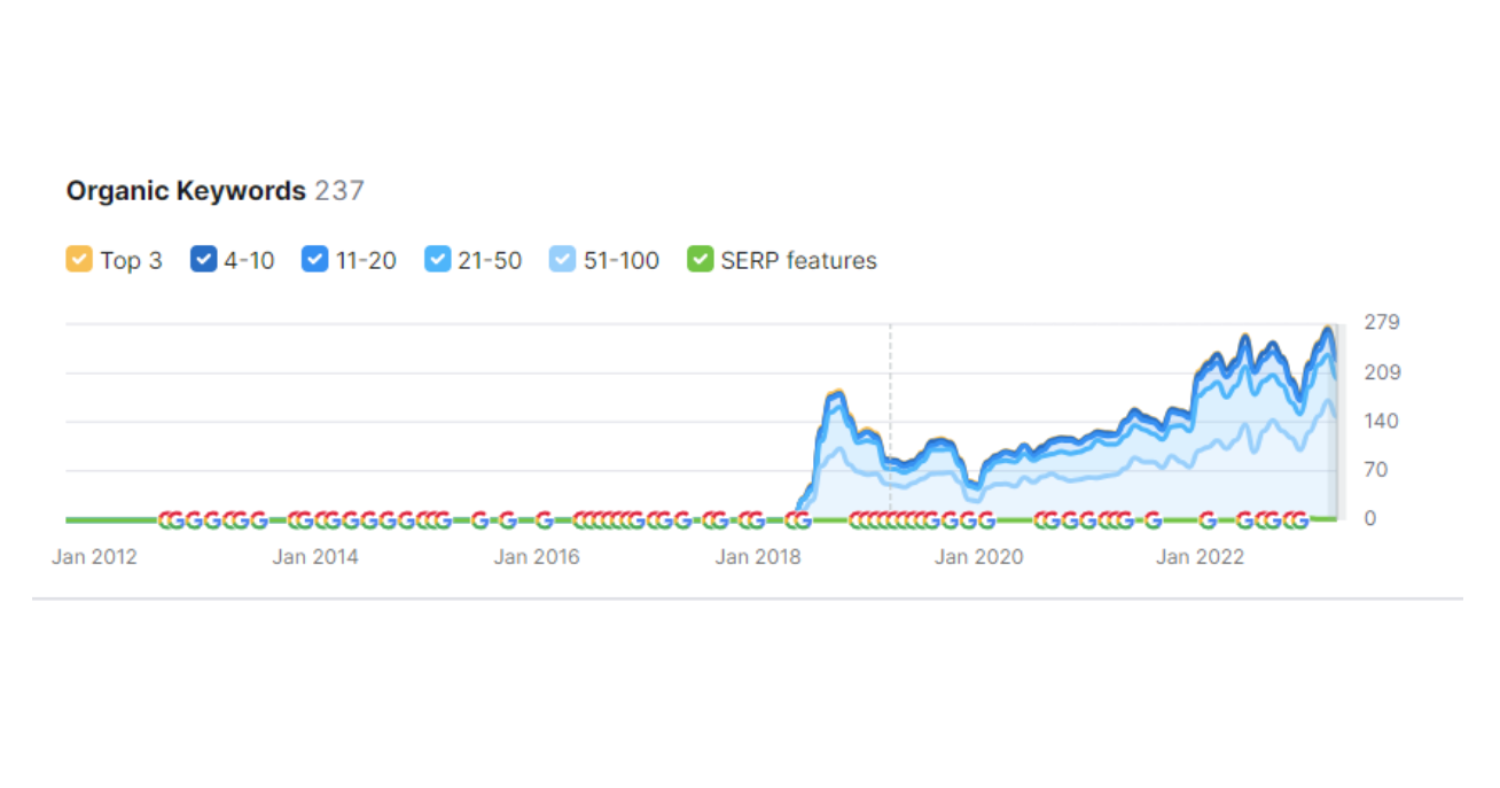 We started in May 2021 after completing a Search Plan programme and since this time our client has seen a huge 116% increase in search engine rankings.
Along with this, some core page one rankings have made their organic search channel the highest lead generating digital marketing source.
B2B TECH BUSINESS
ANGELFISH MARKETING'S TRANSFORMATIONAL SEO STRATEGY FOR A B2B TECH BUSINESS
Overview
In the increasingly digitalised B2B landscape, tech businesses must optimise their online visibility to stand out. Angelfish Marketing, a premier B2B SEO agency, showcased its proficiency in addressing this challenge, delivering astounding results for a client in the technology sector. The client, focused on transforming their customer's digital infrastructure, benefitted from our comprehensive and data-driven Inbound SEO strategy. In a single year, our approach resulted in a 118% increase in search rankings and a remarkable 227% rise in organic traffic.
The Process
Our strategy is customised for each client, aligning with their unique needs and industry dynamics. The methodology we followed for this tech client included:
Persona Review: We dove deep into understanding the client's target audience, their needs, preferences, and their behaviour online.
SERPs Analysis: Our team analysed the search engine results pages (SERPs) to identify opportunities within the technology sector and understand the competition.
Competitor Asset Review: We meticulously studied the strategies of competitors in the tech space, enabling us to craft a superior SEO plan.
Creation of a Market-Beating Pillar Page: We created a compelling pillar page, offering exhaustive information about digital infrastructure, the client's core topic.
High-Quality Blog Creation: We developed engaging blog posts revolving around digital infrastructure transformation to drive targeted traffic and build domain authority.
Optimisation: We optimised the pillar page and blog posts to maximise visibility on search engines, adhering to the nuances of the tech industry.
Internal Linking and Construction of Topic Cluster: A structured internal linking system and topic cluster were set up to improve site navigation and boost SEO.
Conversion Optimisation Tools Implementation: We integrated advanced tools to optimise the client's conversion rates, transforming site visitors into potential leads and customers.
Reporting & Analysis: By continuously monitoring and analysing the SEO strategy, we ensured its effectiveness and adapted to changing market conditions.
Link Building: A robust link building strategy was implemented to elevate the client's site authority and improve rankings within the tech sector.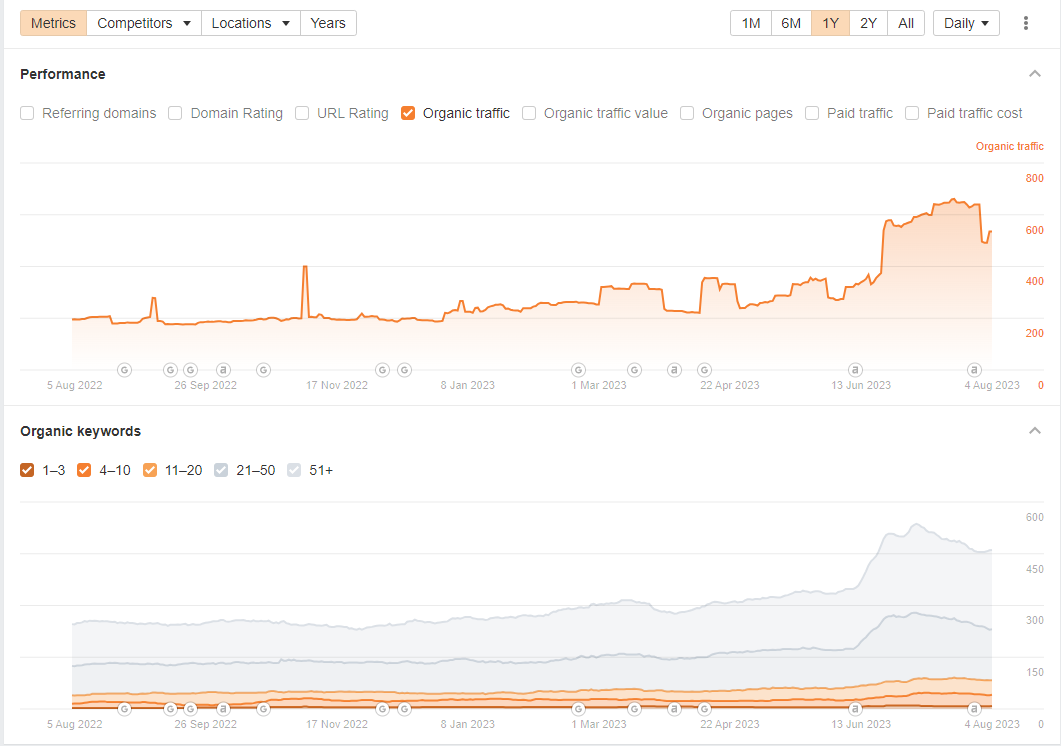 Conclusion
Angelfish Marketing's approach showcased the transformative power of strategic SEO for a tech business's digital presence. Our commitment to understanding the client's audience, conducting meticulous competition analysis, and continuously optimising strategies, combined with our unrivalled expertise in B2B SEO, led to an unprecedented surge in search rankings and organic traffic. This case study underscores our role not just as an agency, but as a strategic partner championing our clients' growth and success in the digital world.
As a leader in B2B marketing, you understand the importance of being visible to the right audience at the right time. Don't let the complexities of SEO hold you back from reaching your full online potential.
Your journey to mastering SEO and boosting your business's online presence begins here. Don't miss this opportunity to learn from the Angelfish experts.
Download your free copy of our 'Beginner's Guide to SEO' today. Start swimming with the current, not against it - your future online success awaits!


"In 4 months working with Angelfish, they have helped deliver 11x visitors through organic traffic, and a 72% increase in sales qualified leads that has led to multiple new business wins. They bring great ideas, but most importantly remove the marketing fluff through clinical inbound and overall digital marketing execution.




We're already reaping the rewards after just a few months with increased traffic and leads too. We also have better connections with our industry thanks to our new, helpful content style - a real testimony to the inbound methodology that Angelfish teach so well.


WHAT IS INCLUDED IN OUR B2B SEO AGENCY SERVICES
Boost Your Search Rankings with Our Tailor-made SEO Services
As a Marketing Manager, you're likely tasked with overseeing and improving your company's online presence. We understand the unique challenges you face, and we're here to ensure your SEO strategy is streamlined, effective, and delivers measurable results.
Your journey to SEO success begins with our comprehensive SEO packages at Angelfish, they're designed with one purpose - to turn your website into a high-performing marketing machine.
If you're seeking more website traffic, enhanced visibility on search engines, and a content programme that connects with the right customers, our services are the perfect fit.


They bring great ideas, but most importantly remove the marketing fluff through clinical inbound and overall digital marketing execution.


SEARCH: UNVEILING OUR COMPREHENSIVE SEARCH PLAN
As a marketing manager, your role demands a deep understanding of your current situation, competition, target audience, and SEO performance.
That's where our tailored Search Plan comes into play.
Designed for precision and depth, it acts as your roadmap to SEO success and it's where our new clients begin their journey with Angelfish.
Our Search Plan is more than a service; it's a strategic partnership.
We work together with you, merging your deep understanding of your business with our SEO expertise to create a robust and successful SEO strategy.
At Angelfish, our aim is to help marketing managers navigate the complex seas of SEO with ease and confidence.
Let's embark on this journey to success together!
Here's what is included in your search plan:
A 4–6-week programme designed to build solid foundations for your SEO programme covering the following:
Situational Analysis and Recommendations
We kick-start the process by conducting a thorough analysis of your current SEO situation. This allows us to understand what's working, what's not, and what can be improved. We then provide recommendations tailored to your specific needs, laying the groundwork for your SEO strategy.
Competitor X-ray
Knowledge is power, and understanding your competition is essential. Our Competitor X-ray uncovers your competitors' strengths and weaknesses, providing valuable insights that can be leveraged in your own strategy.
DIY Persona Creation Tool
To succeed in SEO, you need to understand your audience. Our unique Persona Creation Tool enables you to delve into your target demographics, behaviours, needs, and goals, allowing you to tailor your SEO strategy to your audience's specific needs.
Keyword Research
Effective SEO starts with identifying the right keywords. We conduct extensive keyword research to uncover terms your target audience uses when searching for your services, providing a basis for all your SEO activities.
Content Strategy
Central to our search plan is the creation of a potent content strategy. This outlines what kind of content you need to produce, who it is for, and how it will be shared. Our content strategy is tailored to meet your audience's needs and enhance your SEO performance.
Topic Cluster Creation
To position you as an authority in your field, we help create clusters of content centred around the key topics that matter to your audience. This enhances your site's structure, making it more user-friendly and boosting your search engine rankings.
SEO Audit
Our comprehensive SEO audit evaluates the technical aspects of your website that affect your search engine rankings. From metadata to site speed, mobile compatibility to link health, we leave no stone unturned.
On-Page and Off-Page SEO Plan
We create a detailed plan for both on-page and off-page SEO. For on-page SEO, we focus on optimising elements of your website that you control, such as content and meta tags. For off-page SEO, we plan for activities that occur away from your website, like backlinks and social signals, to improve your site's reputation and visibility.
Goal Setting & Funnel Analysis Review
We work closely with you to set measurable, attainable SEO goals and perform a detailed funnel analysis review. This helps in identifying bottlenecks in the customer journey and opportunities for improvement.
Strategy & Planning Workshop
Our search plan concludes with a one-hour online strategy and planning workshop. This collaborative session allows us to align our SEO plan with your overall marketing strategy, ensuring that every step we take is in the right direction.
DIVE DEEPER WITH A FREE CONSULTATION AND SEO AUDIT
At Angelfish, we believe that knowledge should be shared and accessible. That's why we're offering Marketers a free one-hour consultation with one of our SEO experts.
Are you curious about how SEO can benefit your business? Or, looking for advice tailored to your specific industry and challenges? This consultation is the perfect opportunity to get all your questions answered. Our experts guide you through the complex landscape of B2B SEO, providing insights tailored to your business, and show you how to turn search engine visibility into actual growth.
And that's not all. Along with the consultation, we also provide a complimentary SEO audit of your website. This isn't a superficial, automated check; it's a thorough, human-led investigation into your site's SEO health. Our specialists will evaluate your website on key parameters like site architecture, content, backlinks, and much more.
It doesn't end there, after the audit, we provide a comprehensive report detailing our findings. This includes actionable recommendations for improving your site's SEO performance. The report is designed to be easily understood, and it equips you with the knowledge to make informed decisions about your SEO strategy.
There's no sales pitches, or obligations, this free offer is our way of demonstrating the Angelfish difference. We are dedicated to your success and committed to providing value from our very first interaction.
So, whether you're just dipping your toes into the SEO waters or are ready to dive in head-first, our free consultation and SEO audit are the perfect starting points. At Angelfish, we're not just SEO experts - We're your partners in growth.
Contact us today to schedule your free consultation and SEO audit. Let's explore the potential of SEO for your business, together.
Sectors we serve with our B2B SEO services:
At Angelfish, our sector-specific SEO expertise spans a broad range of B2B industries, such as:
Technology:

Helping tech companies navigate the fast-paced digital landscape.

Software as a Service (SaaS):

Supporting SaaS businesses in standing out in a crowded market.
Recruitment:

Assisting recruitment agencies in attracting quality clients and candidates.

Human Resources (HR)

:

Increasing the visibility and reach of HR firms, making them a top choice for businesses seeking HR solutions.

Professional Services:

Bolstering the online presence of professional services providers such as legal and accounting firms.

Financial Services:

Helping financial firms to reach the businesses in need of their services.

Education and Training:

Amplifying the reach of educational institutions and training providers to businesses seeking professional development opportunities.
Healthcare:

Building the online reputation of healthcare providers among professional customers like clinics and hospitals.

Manufacturing:

Enhancing the online visibility of manufacturers to potential clients and distributors.




Whatever your B2B sector, Angelfish is ready to provide a bespoke SEO strategy that fits your unique needs.
FREQUENTLY ASKED QUESTIONS:
What is B2B SEO?
B2B (Business-to-Business) SEO is the practice of optimising a company's online presence to improve its visibility on search engines, specifically targeting other businesses. This involves the use of strategic keywords, high-quality content, and robust website architecture, amongst other techniques. B2B SEO often involves longer sales cycles and targets decision-makers within businesses.
What is a B2B SEO Agency?
A B2B SEO agency specialises in helping businesses improve their online visibility and rankings with other businesses. This involves a deep understanding of the business' objectives, the complex B2B market, and the development of strategies that target key decision-makers within other companies.
Does SEO work for B2B?
Absolutely. As most B2B relationships start with a search engine query, SEO is crucial for B2B businesses. With a solid SEO strategy, a B2B business can improve its visibility, generate quality leads, and increase conversions. It's about attracting the right audience, providing value, and building trust.
What is the difference between B2B SEO and B2C SEO?
B2B SEO and B2C (Business-to-Consumer) SEO both aim to improve a website's visibility on search engines. However, they target different audiences with different behaviours. B2B SEO often involves longer sales cycles, a smaller target audience, and higher average transaction values. B2B content also tends to be more information-dense and professional in tone, as it needs to speak to multiple decision-makers within a business.
What should I expect from my B2B SEO agency?
A good B2B SEO agency should provide a comprehensive SEO strategy tailored to your business needs, regular reporting on your SEO performance, and continuous optimisation efforts. They should be able to produce high-quality, relevant content, conduct thorough keyword research, and effectively optimise your website. Above all, they should communicate clearly and collaborate closely with you.
My B2B content needs are complex, can Angelfish produce my B2B content?
Yes, Angelfish can handle complex B2B content requirements. We have a team of experienced writers and SEO specialists who are skilled at translating complex topics into engaging, SEO-friendly content. We understand the nuances of B2B industries and are adept at creating content that speaks to your unique audience and supports your business objectives.
How much will B2B SEO cost?
The cost of B2B SEO can vary widely, depending on the size of your business, the competitive landscape, your specific goals, and the scope of services provided. At Angelfish, we offer tailored SEO packages to meet the unique needs and budgets of each client. We believe in transparent pricing and delivering value at every price point. Packages start at £975.00 per month but your individual Search Plan will help to assess your niche to enable us to provide a tailored plan and budge to help you achieve your objectives.
How long does it take to see results from B2B SEO?
SEO is a strategic, long-term investment. While some changes may result in immediate improvements, most significant results are usually seen within six months to a year of consistent, comprehensive SEO work. It's worth noting that SEO involves ongoing optimisation and refinement based on analytical insights and shifts in the marketplace.
What's involved in an SEO audit?
An SEO audit is a thorough evaluation of your website's visibility in search engines. It includes analysing technical SEO factors like site speed and security, on-page SEO factors like keywords and content, and off-page factors like backlinks. At Angelfish, we provide a detailed report with actionable recommendations based on the audit findings.
How do you measure SEO success?
At Angelfish, we use several key performance indicators (KPIs) to measure SEO success. These include organic traffic, keyword rankings, click-through rates, and conversion rates. We believe that SEO success is not just about driving traffic but also about attracting the right audience that converts and contributes to business growth.
Can Angelfish help with local SEO?
Absolutely. If your target market is geographically specific, we can help optimise your website for local searches. This includes optimising your Google My Business profile, generating local content, and building local citations to improve your visibility in local search results.
Do you offer link-building services?
Yes, we offer link-building as part of our comprehensive SEO services. Link-building helps improve your site's authority, which is a critical ranking factor in search engines. We employ ethical, effective link-building strategies, including creating shareable content, guest blogging, and conducting blogger outreach.
How do you stay updated on the latest SEO trends and Google algorithm changes?
At Angelfish, we pride ourselves on our commitment to continuous learning and staying ahead of the curve. We regularly attend industry seminars, webinars, and conferences to keep abreast of the latest trends and changes in SEO. We're also deep partners with leading SEO and marketing software providers such as Ahrefs, SEMrush, and HubSpot. These partnerships grant us access to invaluable insights, advanced tools, and a wealth of industry data.
Furthermore, we closely follow SEO thought leaders and reputable industry publications to stay informed on the latest trends, tools, and updates to Google's algorithms. This commitment to staying ahead of the game ensures we're always implementing the most effective strategies for our clients, securing their competitive advantage in the digital landscape.
Do you offer any other services apart from SEO?
Besides SEO, Angelfish offers a comprehensive range of digital marketing services to support your online growth. These include inbound marketing, content marketing, social media marketing, email marketing, and more. Our aim is to provide a holistic, integrated approach to digital marketing that aligns with your business goals.
At Angelfish, we believe in empowering you with knowledge so you can make informed decisions about your SEO strategy. We're here to answer your questions and help you navigate the complex world of SEO. Let's explore the potential of SEO for your business together.
How much experience does Angelfish have in B2B SEO?
With over a decade of experience in the digital marketing landscape, Angelfish has developed a robust expertise in B2B SEO. We have served diverse industries and successfully managed complex SEO campaigns for numerous B2B clients.
Our team is adept at understanding the unique requirements of B2B businesses and developing custom SEO strategies that deliver tangible results. Over the years, we have not only stayed up to date with the evolving SEO trends but have also pioneered innovative approaches to B2B SEO.
Trusting Angelfish with your B2B SEO means partnering with seasoned professionals who know how to navigate the intricate B2B digital landscape.


It's been great to collaborate with Angelfish on our inbound marketing strategy. Right from the initial consultation, we knew that our content marketing would stand to benefit from Abby and Rich's wisdom.


Get your free marketing report and consultation
Just 16% of marketers say traditional marketing methods provide high-quality leads. It's time to switch to inbound.

One-hour consultation with an inbound marketing expert
Technical and on-page SEO audit to assess the health of your website
Content and social media review